Schools, Pupils and Parents
We are a dedicated team providing support to schools and careers leads on NHS and Social Care careers. During the current school closures we have identified some resources to help parents, pupils and schools keep children engaged. You can find out about the human body, how it works and learn how Health and Social Care staff get involved if you get poorly or have a health condition. We have also included a section on supporting your child's health and wellbeing through the pandemic.
LINKS FOR SCHOOL RESOURCES
RESOURCES FROM YOUR HEALTH AND SOCIAL CARE SCHOOLS TEAM
Our schools team have created a careers learning resource that your pupils can complete at home during the lockdown period. This links to Gatsby 4 and is designed to provide insight into at least one Health and Social Care role that the pupil could aspire to. This is aimed at Y8, Y9 and Y10 pupils and takes about 1 hour to complete. To access the learning resource please contact your local School Engagement Coodinators: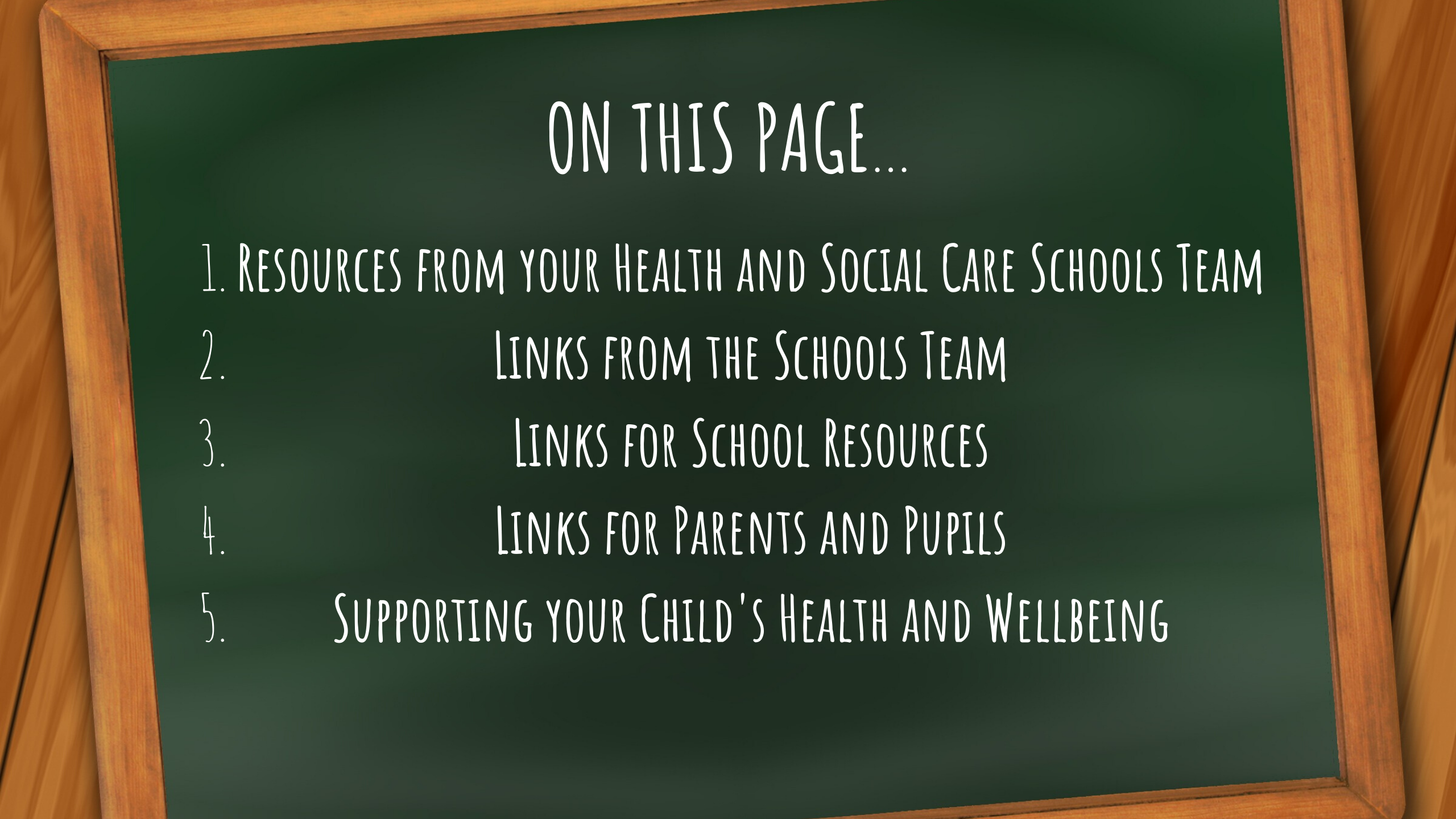 ---
CAREERS LINKS FROM THE SCHOOLS TEAMS
Have a look at what careers are available within Health and Social care below, you may be surprised just how many there are!
If you are looking at promoting health and social care careers in your schools the following links might be a really helpful guide to do this:
WOW Show Careers Guides designed for the home schooling situation - and beyond.
These have been commissioned by the NHS and will let your students learn all about a career as a Podiatrist or a Therapeutic Radiographer and being part of the army of Allied Health Professionals who make such a difference to people's lives.
The WOW Show video guides take students behind the scenes to learn from near peers who are making their way in these valuable careers – and to hear directly from them about the pathways they took, what the job is really like, and what the opportunities are for the future. It includes guidance notes for teachers and a NHS certificate of participation for students.

Medical Mavericks have produced some fantastic videos aimed at secondary school children who may be considering a career in the NHS.
VIRTUAL HEALTH CAREERS CONFERENCE - 25 July 2020
The UK's leading event for aspiring and current healthcare professionals returns as an immersive interactive virtual conference. We are pleased to be supported by Health Education England, NHS England, General Medical Council and key organisations.
You can register for FREE for the Virtual Health Careers Conference, this is set to be the biggest widening participation event for healthcare disciplines with a diverse programme including:
Keynote talks and panels in our live #VHCC studio
Virtual Workshop Hubs - learn about your health career of interest and what you need to do to get in!
Interactive Virtual Clinical Skills Zone - your chance to get to virtually experience clinical skills!
#VHCC Waiting Room - this is our version of the Mentoring & Networking Zone here you can ask a current healthcare student, professional or leader any question you want!
Digital Health & Innovation Zone- a peek into the future of health!
Interactive Virtual Exhibition - an opportunity to virtually meet key organisations and access useful resources!
Developing Your Portfolio Programme - A dedicated virtual track featuring leaders across fields to support career development for current healthcare students and professionals covering areas such as Leadership, Diversity, Medical Education, Innovation, Digital Health, Portfolio Careers, Primary Care, Specialties and Start-Ups.
Follow the link to find out more infomation.
---
LINKS FOR PARENTS & PUPILS
Helping children and young people cope with the information and changes related to the Coronavirus can be a huge challenge. From social distancing and quarantine to school closures and increased awareness of infection and hygiene – there is a lot to process for children and families.
Below are some fun and creative links for parents and pupils to use that are related to Health and Social Care:
Resources for Reception, Year 1 and Year 2 children covering, social school, bubbles and what will be different. Twinkl
Health Education England have pulled together some useful resources for younger children, especially those Reception and Year 1 children who are returning to school in June.
Faber books have written a lovely story available on YouTube called While We Can't Hug about how Hedgehog and Tortoise want to give each other a great big hug, but they're not allowed to touch.
Any children interested in being a paramedic might want to read the books called Paramedic Chris by the Author Tim Parsons.
12 May 2020 was International Nurses Day Twinkl has provided some great resources about Nursing and one very famous Nurse Florence Nightlingale. Twinkl
Medical Mavericks are wanting to inspire the next generation of medics and scientists by taking real medical and sports science equipment into schools, colleges & events all over the UK. Their website contains many useful resources and on You Tube they have Medical Mavericks TV - this episode is all about the Eyes! They are also broadcasting big assemblies via their Facebook page while school's are closed. Assembly 1 - The Heart Assembly 2 - The Lungs
Operation Ouch! Dr Chris, Dr Xand and Dr Ronx explore the ins and outs of the human body in a variety of eye-opening experiments on CBBC. There are games and some "try it at home" experiments. Operation Ouch!
Working with Health Education England (HEE), The WOW Show was given access to Allied Health Professionals, the third largest professional group in the NHS. This programme gave students real-life encounters with newly qualified professionals, providing fresh perspectives on the world of work in the NHS. Wow!
COVID-19 time capsule created by Long Creations, this free printable workbook could give a child the chance to remember this unique time and reflect back on it in the future.
The Department of Education have brought together an initial list of online educational resources to help children to learn at home. These websites have been identified by some of the country's leading educational experts and offer a wide range of support and resources for pupils of all ages. Click on the link to take you to a list of resources by subject and keystage.
Daily fun educational videos from former Blue Peter presenter Konnie Huq on her You Tube channel based mainly on STEM or creative ideas, there is also a fabulous video about the NHS and a reading from the poem "These are the hands" by author Michael Rosen. NHS Video
This Royal College of Pathology have devised a series of pathology-themed activity resources. The majority are most suitable for secondary-age students Years 7-13. Why not try some of the sessions. Pathology resources
Twinkl has some lovely resources for all age children which is free during COVID-19 for all parents access, when registered a code is sent by email which give full access. Dr. Dog eBook by Lydia Monks and Professor James Logan is just one of the resources on there for reception children explaining about the coronavirus. For other children there are home learning work packs to help understand about the virus and social distancing.
My Daddy is a Nurse by Kerrie Byron, here is a YouTube trailor about challenging gender stereotypes in the NHS and Social Care.
POST 16 RESOURCES
Observe GP is intended to provide an alternative to work experience for aspiring medics aged 16 and over, who are living in the UK. It is a free interactive video platform providing insights into the role of a GP and the wider primary care team. This may also provide useful work experience for any type of patient facing career such as nursing, therapy and Allied Health roles.
https://www.rcgp.org.uk/training-exams/discover-general-practice/observe-gp.aspx
Please note, SYREC is not responsible for the content of external websites. All external links should be checked and used under adult supervision where required.
---
SUPPORTING YOUR CHILDS HEALTH AND WELLBEING
Everyday life for school age children has changed and will be very different for a long time to come, the links below may be useful to help support your child during this period of time.
Communicating with Children around Covid-19 for children of Key Workers in the NHS and Social Care. Advise on how to tackle important questions such as: Will you catch the Coronavirus? If school is safe why can I not see my friends? Why can you not stay at home like my friends parents?
Door 43, from Sheffield Futures offers virtual support to 13-25 year olds on a range of emotional wellbeing issues. This service provides information, advice and guidance to young people experiencing issues such as low mood, stress and anxiety, loneliness, difficulty accessing education or employment and low confidence. Door 43
Sheffield Children's Hospital have gathered together some great resources to help children and young people cope with the information and changes related to the Coronavirus. From social distancing and quarantine to school closures and increased awareness of infection and hygiene. Supporting with COVID-19
The Chidren's commision has a guide to help support children through this time and help answer any questions about the coronavirus. Guide to Coronavirus
The Child Mind Institute has some handy hints especially for parents of older children in how to cope during Covid 19. Supporting Kids
Axel Scheffler, the author of the Gruffalo has illustrated a digital book for primary school age children, free for anyone to read on screen or print out, about the coronavirus and the measures taken to control it. Get a copy here
A lovely story aimed at young children in how to deal with thier feelings during the Coronavirus, by Ana Gomez. The Oyster and the Butterfly
Time to come in bear is a short story about social distancing by children's author Kim St Lawrence. Time to come in Bear
Headspace has joined in with Cookie Monster from Sesame Street to provide a short mindful session for young children around having to wait. Fun meditation
Mind Ed is a free learning resource about the mental health of children, young people and older adults.
---
THE HEALTH AND SOCIAL CARE WORKFORCE
THE HEALTH AND SOCIAL CARE WORKFORCE
THE HEALTH AND SOCIAL CARE WORKFORCE
These useful infographics illustrate Health and Social Care Labour Market Information for each place base in the South Yorkshire and Bassetlaw Region, as well as the National picture.